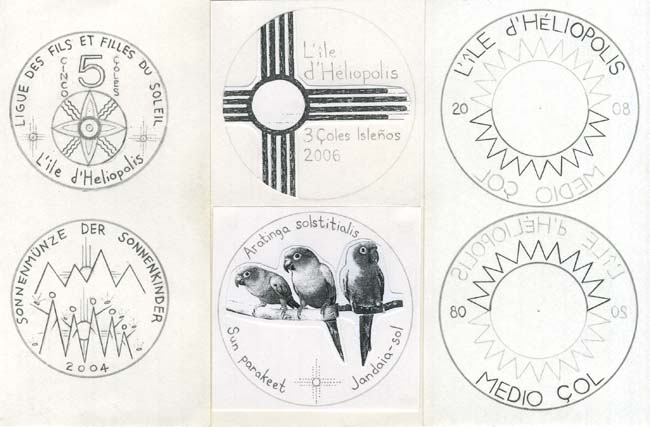 This is a simple page designed to broadcast the numismatic objets d'art from L'île d'Héliopolis. I am extremely glad you found it on the Internet and I hope it is of interminable interest to you!
Some of the most captivating coins in my collection come from self-declared micronations, non-territorial states, pseudo-états, nonexistent countries, and secessionist movements. Philatelists may be at an advantage, for they use the term "cinderella" stamps to categorize issuers of fantasy, apocryphal, spurious, and pretender items. For us, however, these entities are hard to define; but many of them can be found in Colin R. Bruce II's exceptional Unusual World Coins catalog. I encourage you to read my introductory essay about this distinct breed of coinage.
I am referring to sources from which I have acquired at least one coin: Adventure Club, Aerican Empire, Afro Coin Mint/"United States of Africa", American Open Currency Standard (includes Free Lakota Bank, Free State Project, Ludwig von Mises Institute, Soto Nations of the Anishinabe Nations), Andor Orand, Empire of Antoninia, Kingdom of Araucania-Patagonia, Independent Republic of Arequipa, Aspen Silver Dollar, Atlantis, Atlantis (ATCOPS), Kingdom of Atlantis, Empire of Atlantium, Australia Fair, Grand Duchy of Avram, Axarquía, Azad Hind, Sovereign State of Barbe Island, Benelux, Kingdom of Bermania, Kingdom of Biffeche, Boys' Republic of Civitavecchia/Boys' Town of Rome, Isle of Brechou, Dominion of British West Florida, Buck Island, Kingdom of Calsahara, Republic of Camala/Republic of Malaca/Republic of Amalia, Campione d'Italia, Castorland, Cat Cay, Catalanist Union (Unió Catalanista), Sovereign Barony of Caux, Celestia (the Nation of Celestial Space), Cherokee Nation, United Cherokee Nation, Free City of Christiania, Community Dollar, Conch Republic, Confederate States of America, Confederation of Antarctica, Federation of Damanhur, State of Deseret, Dixie Dollar, Republic of the Earth, Kingdom of Elleore, Euskal Herria (Basque Country), Evrugo Mental State, Ferdinandea (Graham Island), Flanders, Free State of Flaschenhals, Foundation for Cosmonoetic Investigations, Frederikssund (Møntklubben), Principality of Freedonia, Friesland, Friuli Homeland, Gallery Mint, George Junior Republic, Global Country of World Peace, Gold Standard Corporation, Graceland, Greenpeace, Grand Duchy of Greifenberg, HADEF (Hunger Aid and Development Foundation), Hutt River Province, International Foundation for Independence, Islamic Mint, James W. Curtis, State of Jefferson, Kaliningrad, Kingdom of Kamberra, United Federation of Koronis, Kumalongoola, Lasqueti Mint (Lasqueti Island, Gabriola Island, Cascadia), League of Nations, Regency of Lomar, "Luna"/"der Mond", Lundy, Mattole Free State, City of Microna (Republic of Veshault/Kingdom of TorHavn), Republic of Minerva, Republic of Mirage Islands, Republic of Molossia, Republic of Monte Cristo, Free Commune of Moresnet (Neutral Moresnet), Na-Griamel Federation, Commonwealth of New Island, Principality of New Utopia, NORFED (Liberty Dollar), Northern Forest Archipelago, Nova Roma, State of Numisma, Sultanate of Occussi-Ambeno, Principality of Outer Baldonia, Federal Republic of Padania/Lega Nord (Unione del Nord)/Repubblica del Nord, Principality of Paradise, Republic of La Parva Domus Magna Quies, Phoenix Dollar, Piedmontese Federalist Movement, Sovereign Nation of Poarch Creek Indians, Purple Shaftieuland, Québec, RCC (rec.collecting.coins), Holy Empire of Réunion, Kingdom of Riboalte, Rio-Grandensse Republic, Riviera Principality, Kingdom of Robland, Kingdom of Romkerhall, Royal Hawaiian Mint, Royal House of Bourbon of the Two Sicilies, Royal House of Savoy, State of Sabotage, Salt Spring Island, San Blas Islands, Republic of San Serriffe, Principality of Sealand, Principality of Seborga, Sovereign Nation of the Shawnee Tribe, Shenandoah Valley Free Money, Sherman Dollar, Shire Post Mint, Historic Silver Valley, Society for Creative Anachronism, Sovereign Carbon Community Bank/Sustainable Community Commons Bank, Ultimate State of Tædivm, Tarim (Arabia), Tender Island, Republic of Texas, Texas Mint, Kingdom of Torgu, Empire of Trebizond, Tyrolean Hour, Union of North America, United Future World Currency, United Maxxico America, United Nations, United Transnational Republics, Universala Ligo, "Utopia" (Mundus Unum), Victor Vincente of America, Principality of Vikesland, Vinland/Midhgardhr, Kingdom of Wallachia, Grand Duchy of Westarctica (Antarctic Territory), Principality of Wikingland, Wirtland, Xenostrov, Nation of YAN.
This list would be far from complete without also including the pieces produced by Mr. Fred R. Zinkann (Adélie Land, Amsterdam and St. Paul Islands, Bouvet Island, Crozet Islands, Enderbyland, Kerguelen Islands, McMurdo [Station], Vostok [Station]) and Mr. William Turner (Abemana, Änän Munän-Ylhä/Änän Täntaimon/Änän Ylhätuoli, Ile Crescent, The Most Serene Republic of Excelsior, Gaferut, Klef Raraha, Mägi Päiväine, Nuikviss Aoi, Pampapana, Viinamarisaar).
There have also been many coins/tokens related to fictional places encountered in literature, films/television, and games (Ankh-Morpork, Armorica, Bank Bedrock, Diagon Alley [Gringotts Bank], Duckburg, Ferengi Alliance [Ferenginar], Galactic Republic/Empire, Gilligan's Island, Great Underground Empire [Kingdom of Quendor], Helion Prime, Island Nations Federation [Razril], Lunar [the Silver Star], Republic of Mars, Ork, La Planète des Singes, Sanctuary [Rankan Empire], Smurf Village, Sosaria [Kingdom of Britannia], Talon Kingdom, Twelve Colonies of Kobol, Kingdom of Zamunda). Furthermore, numerous pieces have been produced by Live Action Role-Playing groups (NERO [New England Roleplaying Organization], Legends Roleplaying, the Isles, KaNaR [Knights and Nobles and Rogues], LAIRE [Live Action Interactive Roleplaying Explorers], Mythic Realms, Amtgard, Dagorhir, the Realms, Darkon).
I must also respectfully honor the unprecedented labor of Richard D. Kenney, whose posthumous compilation appeared in the ANA's The Numismatist between 1962-64. Even in the early 1950s, Mr. Kenney realized the beauty and collectibility of these unique coins.
Perhaps this text has a familiar ring to it thus far; that is because portions of it have been copied from the Web-site of the first coin-emitting entity I concocted: Nichtsburg and Zilchstadt. No sooner had its initial coin been minted, than I began to enthusiastically tackle the designs for this current endeavor. I'm pretty sure, though, that this will be the final semi-geographical, make-believe "site" which I "sire"; especially the final fictional location which issues faux specie.
The L'île d'Héliopolis coins are also based on my poetry. For years, I have been mesmerized by solar imagery and symbolism. It is a theme to which I return every now and again, and it never seems to lose its vitality and freshness. For each of these coins, I have taken fragments from some of those poems, and joined them together like a collage.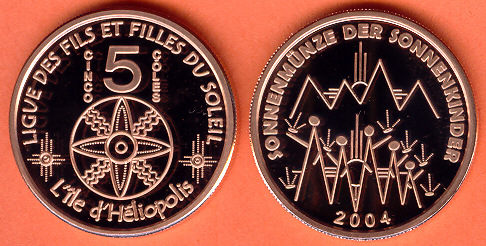 The inaugural L'île d'Héliopolis 5 Çoles, dated 2004: For this particular coin, one of my original goals was that it be somewhat reminiscent of many of the municipal notgeld tokens that I admire. As a result, this Cinco Çoles (Five Suns) piece emanates not only from the central governing authority (in this case, The Isle of Heliopolis and its chimerical treasury), but more specifically, from another body within its insular boundaries: the alliterative Ligue des Fils et Filles du Soleil (League of the Sun's Sons and Daughters). The monetary unit is the Çol (Çoles being the plural), which is phonetically identical to the Peruvian Sol/Soles. The radiant symbol on the obverse is that of Shamash and his all-seeing light; this disc represented the Mesopotamian (Sumerian/Akkadian/Babylonian/Assyrian) solar deity approximately 3,000 years ago, though the actual sun-god is substantially more ancient. On the reverse, there is the legend Sonnenmünze der Sonnenkinder. This inscription hopes to affirm the special function of this piece as the "Sun-Coin of the Sun-Children", one of which is borne by each of the depicted youths.
This coin is 39mm in diameter, and 3mm thick. It was minted by the Northwest Territorial Mint, in a run of 50 copper and 5 silver. I am sold out of all 2004 pieces.



The L'île d'Héliopolis 3 Çoles Isleños, dated 2006: Essentially, the soulful gist of this coin is wholly in lockstep with the heliocentric leitmotif of its forerunner. Though an isleño may be a native/inhabitant of an island, the word can also be defined as: of, relating to, pertaining to, or befitting an isle. The obverse of this piece is emblazoned with an insignia whose perfectly balanced decorativeness is filled with symbolic significance. It is an age-old representation of the sun, inherent to the Zia/Tsia Pueblo, and which adorns the flag of New Mexico. According to their spiritual lore, riches were bestowed upon them by the "Giver of All Good Gifts" in orderly groups of four. This hallowed number is divinely embodied in the main directions of the earth, the seasons of the year, the segments of the day (sunrise/morning/dawn, noon/daylight, sunset/evening/dusk, night/darkness) and the stages/divisions of life itself (childhood/infancy, youth, adulthood, old age). All of these blessed bequests correspond to 16 linear rays which radiate from the center of a circle. These elements are everlastingly bound together at their bases by the orb, which epitomizes existence and love, both of which are without beginning or ending. Moreover, the tribe believes that in this great fellowship/alliance of all things, each person bears 4 sacred responsibilities/obligations: to develop a strong body, a clear mind, a pure spirit, and a devotion to the welfare of one's family/people. On the reverse of the coin, assisting its attainment of a full-fledged thematic denouement, are three Sun parakeets (Aratinga solstitialis in the taxonomy of Linnaeus; and in Portuguese, because this bird is indigenous to Brasil, Jandaia-sol). It is pleasant to imagine them as zoomorphic aspects, earthly manifestations of the omniscient sun, who frequents our world by adopting a sprightly animal form; who dons this lively guise and becomes inconspicuous by blending in with the tropical background; who, no longer hindered by the astounding distance of space, uses a feathery façade to gain sound, experiential insights while in our midst.
This coin is 36mm in diameter, and 3mm thick. It was minted by Pressed Metal Products, in a run of 54 copper and 11 silver (plus 2 pre-production samples: one in copper-nickel and one in brass). I am sold out of all 2006 pieces.



The L'île d'Héliopolis Medio Çol, dated 2008: This coin completes the Heliopolitan triptych. Several years before I decided to produce medallions for Nichtsburg & Zilchstadt and L'île d'Héliopolis, I tried to imagine how a coin made of glass would look. This was actually my very first idea for a self-issued coin. The visual details of the piece would be realized through the process of frosting, thus giving a dull and lusterless finish to those decorative, non-transparent portions of the surface (we've all seen frosted areas on beer mugs). Sandblasting is one of the simplest and most versatile methods for achieving this effect. The results are very similar to acid etching. Both procedures produce smooth matte surfaces, but sandblasted areas can be slightly rougher to the touch. When a piece of glass is sandblasted, a jet of fine sand (or similar hard grit) is forced (from the nozzle of a sandblasting gun with the help of compressed air) against its surface, which removes the polish from the glass. Although sand can be used, more effective abrasive materials with less toxic effects are now available. Silicon carbide is commonly used, as is electro-corundum (aluminium oxide). The glass is normally placed inside a special cabinet with arm holes, a viewing window and dust extraction facilities. If required, parts of the design may be masked so the piece is only partially frosted. The technique of sandblasting was invented in 1870 by a Philadelphian named Benjamin Chew Tilghman. Legend has it that Tilghman had seen the effect of wind-blown sand on windows in the desert and/or prairies while a general in the army, and that this was the inspirational basis of his sandblasting invention. He filed a patent for this process (U.S. Patent Number 104,408) that same year, detailing many of the applications for which this technique is uniquely suited, such as sharpening files, engraving bottles, cleaning boilers or bringing out the grain in wood. Later that year, a patent was issued in the United Kingdom (U.K. Patent # 2147). He refined the technique for various purposes, whereby further patents and developments followed. Coincidentally, Tilghman graduated from the University of Pennsylvania — which also happens to also be my alma mater — in 1839.
The Medio Çol was crafted by Mr. David Alan (http://www.glassbyda.com/). After receiving my designs, Mr. Alan sent me an e-mail: "Looking over what you're asking me to do…it is not an easy piece to do! I did not fully understand the scope until this week. I will admit that it will be a VERY UNIQUE Piece and I believe I can pull it off." He predicted that they would be "a pain to do" because "Each piece is hand done, there is no machine to do the job." Nevertheless, he was confident they would ultimately look beautiful. As it turns out, Mr. Alan was absolutely correct in this prediction. Right after he "blasted the first Sample", he remarked: "It is Awesome…without a doubt…The degree of difficulty is also beyond belief. But it will be worth it." When I finally saw the first three "Sample Proofs", I immediately realized that the results were going to be clearly (no pun intended) amazing. Mr. Alan's craftsmanship was stunning. That was crystal clear. I must admit, however, that I was initially taken aback: the pieces did not match what I had envisioned and they did not adhere to the basic simplicity of my concept. They were experimental in nature and they differed markedly from how I designed the coin. Mr. Alan had interpreted my drawings in ways I simply could not have foreseen. He sandblasted the three samples so that they could be viewed from one side only. In other words, he made them so that all the text could be read by simply looking at the obverse. Therefore, there would be no need to "flip" the coin in order to view the reverse (all the text on that side would be backwards). There would be no reason to gaze at the "back" of the coin (except to admire the frosting technique up-close, out of curiosity), just like there is almost no aesthetic purpose to look at the back of a painting or the back of a decorative tile. All the "important" information on the coin (country name, denomination, year of issue) would be legible solely from the "front" side (the primary side), making the unreadable "back" side of the coin completely irrelevant. This defies the one of the purposes of a "coin", which is supposed to have two "useful" sides, two functional sides. Typically, BOTH sides of a coin convey crucial information. Both sides are of equal importance. Therefore, I attempted to emulate this in my design so that the viewer would have to flip from one side to the other in order to "experience" the whole coin. The way I designed the coin, the phrase "L'île d'Héliopolis" is supposed to be legible left-to-right on the obverse (it appears backwards when the coin is flipped), and the phrase "Medio Çol" is supposed to be legible left-to-right on the reverse (it also appears backwards when viewed from the opposite side). This way, the coin absolutely has to be seen from the front AND from the back. Both sides are vital. Both sides contain pertinent/useful information. Both sides of the coin are integral to the whole.
Mr. Alan's creative experimentation did, however, result in one extremely handsome touch that I had never thought of (but that I wish I had). The more I looked at this innovation, the more I became attracted to its overall effect. He linked eleven little jagged/triangular/transparent outlines to the 11 sandblasted sun-rays on the obverse (thereby "completing" the circular shape of the sun on this side) and added another set of eleven little jagged/triangular outlines to the 11 sandblasted sun-rays on the reverse ("completing" that side's sun as well). Thus, both sides of the coin feature a full/entire sun, half of which is sandblasted and half of which is transparent. When you observe the coin head-on, the outlines on the obverse overlap with the sun-rays on the reverse (and vice-versa), creating a very cool visual effect. I even commented — in regards to one "Proof" in particular — about how well the half-sun from the obverse aligned with the half-sun from the reverse in order to create a whole "sun". On another "Proof", though, I noticed that the alignment was slightly "off". I had to tilt the piece slightly to the left and downwards to get the two halves to converge. Mr. Alan commented: "As far as this Tilt Issue…is it always going to be an issue…that is why this is a Nightmare of a Project…and so time consuming and labor intense. Because each piece is hand done. The masks [stencils] need to be put on both sides one at a time…and lined up by eye. Depending on your angle, working with the small Glass, the very sticky mask, it is always moving. There is no way to make it perfect and exactly the same each time…I do not use a machine and to make it even more difficult, Each circle, it self is not perfectly round or the exact same size. With the exact same edge. Again I can not stress now difficult doing this is." He later added: "yes they are very difficult to get perfectly lined up…Basically. I'm working in the dark and do not know exactly how they will come out, until they are Completed and in the box. But each is hand done and I will have to do them myself…But I will try and be perfect." I requested two additional samples: one which truly matched my original design (I was still curious to see how it would look, so we communicated a great deal in order to iron out the details), and one which was a more finalized version based on the innovation with which he had wowed me. I received them about ten days later. I was finally able to begin the drawn-out process of picking a definitive version — it was an incredibly difficult decision to make — for the final run. I opted for the one with Mr. Alan's lovely innovation! Meanwhile, he commented: "I'm going to produce a few each day, because they are VERY difficult to produce." Nearly three months later, all of the pieces were finished. "They came out awesome!! This was the hardest project I have ever done…they are truly pieces of art." The entire process may not have been a simple task for him ("Like I said it is not a fun project"), but all in all he did an outstanding job.
Why didn't I pick the version that matched my original design? Due to the substantial thickness of the glass itself, the 22 sandblasted sun-rays (bottom 11 on the obverse, top 11 on the reverse) did not line up as smoothly as I had envisioned. From almost every angle, there was a disconcerting amount of space — a tremendously irreconcilable gap — in between the two half-suns. There was simply too much distance separating the two sandblasted sun-halves (the only way to alleviate this spatial issue was to close one eye while looking at the unified image). Mr. Alan's circular "completion" of the sun on each side (sandblasted rays plus outlined rays) completely eliminated the glaring "depth" problem. Furthermore, his version was visually much more exciting than mine. I must admit that the version based on my original design was dull-looking and bland by comparison.
To make the coins, Mr. Alan used 2″ clear Optical Crystal, which was obtained from his supplier in China. To view the complete image, simply hold the coin up to a source of light — preferably the sun — and voilà, the two halves seamlessly merge into one (however, after experimenting with different ways of looking at the coin, I realize that it is actually better to view it against a dark background).
During the pre-production stage, a couple of astute numismatists alerted me to the existence of a couple of interesting bi-material coins each of which features a handsomely etched vitreous element: a 2 Pound piece (silver outer ring/crystal inner ring) dated 2007 from the South Georgia & South Sandwich Islands featuring Penguins of the Antarctic and a 10 Zloty piece (silver outer ring/glass inner ring) dated 2008 from Poland commemorating the 400th Anniversary of Polish Settlement in North America (Jamestown, Virginia).
Here is one other important detail I cannot fail to mention: for a great many months, I believed that there would ultimately be two different versions of the glass coin. Why did I cling to this thought? At the outset of this project, I began communicating with numerous prospective craftsmen. After all, there was no predicting how many "positive" responses I would receive. Eventually, the field narrowed down to a pair of candidates, and I simply could not bring myself to select just ONE of them to help see this endeavor come to fruition. I made up my mind that there would be TWO versions of the coin (both would have been based on the exact same obverse/reverse designs). I could not, in all good conscience, pick one over the other. I became convinced that each of these talented artisans could bring his own unique touch to the see-through coin. This was turning out to be a very special opportunity and I felt that it would be a big mistake not to enter into a creative partnership with each of these gentlemen. So instead of having a larger quantity of coins originate from a single workshop, I decided to have a smaller quantity of coins emerge from each separate workshop. Unfortunately, for better or for worse, the second craftsman backed out of the project and there is now only one version of the glass coin.
Mr. Alan produced a total of 25 glass medallions (plus 5 pre-production samples). Each one is 49mm in diameter, and 6mm thick. I am sold out of all 2008 pieces.
The actual Heliopolis ("City of the Sun") was one of the oldest and most principal cities of ancient Egypt. Its Egyptian name was Iunu or Onu or Annu ("Pillar City"), and in the Bible it is called On. The site had been occupied since the Predynastic Period, with extensive building campaigns during the Old and Middle Kingdoms. According to Volume 5 of The New Encyclopædia Britannica, Heliopolis was "the seat of worship of the sun god, Re. It was the capital of the 15th nome [province] of Lower Egypt, but Heliopolis was important as a religious rather than a political centre. Its great temple of Re was second in size only to that of Amon at Thebes, and its priesthood wielded great influence, particularly during the 5th dynasty, when the worship of Re became the state cult. In the New Kingdom, the temple of Re-Horakhte became the repository of royal records." Volume 14 of the Encyclopedia Americana explains that "From the 5th dynasty (beginning about 2500 B.C.) each pharaoh was called 'Son of Re,' and Heliopolis was the spiritual center of Egypt. The priests of the Temple of Re had great political power, and Herodotus states that they were reputedly the best historians in Egypt." The site flourished as a famous seat of higher learning during the Greek period, and its schools of philosophy and astronomy are claimed to have been frequented by the Greek statesman Solon; the philosophers Pythagoras, Plato, Solon, Thales, Eudoxus are also said to have studied there. By the Ptolemaic dynasty, Egypt's rulers probably took little interest in their "father", Re. Thus, with the withdrawal of pharaonic favor, Heliopolis dwindled, and the students of native lore deserted it for other temples supported by a wealthy population of pious citizens. In addition, Heliopolis quickly declined after the founding of the Alexandrian Library, whereupon the scholarship of Alexandria permanently eclipsed the learning of Heliopolis. By the 1st century B.C., the town itself was almost uninhabited. When the Greek historian and geographer Strabo visited Heliopolis in 24 B.C., he found the schools and temples almost deserted. In Roman times Heliopolis belonged to the Augustamnica province.
Today, little remains of the great city of Heliopolis (the land is mainly used for cultivation, but the ancient city walls of crude brick are to be seen in the fields on all sides). The growth of Cairo (only 6 miles to the southwest) and Fustat caused the ruins to be ransacked for building materials. All of its temples (and other structures) were destroyed, and the granite blocks were used for the construction of medieval Cairo's city walls and gates; the stones can still be seen in some of these extensive, still-standing military fortifications. The previously cited article from Encyclopedia Americana concludes thusly: "The only remaining monument is a red granite obelisk, over 65 feet (20 meters) tall, which bears the name of Sesostris I (reigned 1971-1928 B.C.)." Marking the position of Heliopolis' great temple, it is the oldest obelisk in existence. "The pair of red granite obelisks erected in Heliopolis during the reign (1490-1436 B.C.) of Thutmose III and now known as Cleopatra's Needles stand in Central Park, New York City, and on the Thames Embankment, London." The location where Heliopolis once stood is now partly occupied by the village of Al Matariyah (also spelled Matariah, Mataria, Mataryah, Matarya), 6 miles (10 kilometers) northeast of Cairo. Another source states that Heliopolis stood five miles east of the Nile, north of the apex of the Delta at Ain Shams/Ein Shams ("eye of the sun" or "well of the sun"), a suburb of Cairo. Confusingly, there is an unrelated modern Cairene suburb, also named Heliopolis, which is located some distance away.
Heliopolis was the original source of the worship of the Ennead pantheon (a council of nine deities), and Atum ("the All" who created the world; associated with the setting sun, his name is alternatively spelled Atem, Atumu, Atmu, Tem, Temu, Tum) was the first-born god in the Ennead cosmogony. At some point, the Ennead of Iunu united with the Ogdoad (a grouping of eight deities worshipped in Hermopolis) mythos. Certainly by 500 B.C. the two traditions were thoroughly joined by religious thinkers to form a larger theological system — a larger Gestalt, as it were. At the helm in the Ogdoad system was the creator/solar deity Re (also Ra). Heliopolis became the chief cult center of Re. Furthermore, since the role of Re was so similar to that of Atum, their two identities merged to form a new entity, Atum-Re (or Re-Atum, Ra-Tem), who became the dominant high god during the Old Kingdom. But because Re was the whole sun, and Atum just the evening sun when it sets, it was Atum who was thought of as an aspect of Re, and eventually subsumed into him (the remaining component of the solar triad was Khepri [or Khepra] — as the resurrected/dawning sun, he was represented by the scarab beetle that rolled up the sun in the mornings). Some folks believe that the Atum and Re were one and the same sun-god (that the god who was Atum became Re in the course of his own unfolding, as the originally formless god began to acquire certain distinct attributes) from the very beginning, but the evidence clearly shows that Atum and Re originally were two entirely different creators. Interestingly, as we shall soon see, there were other composite deities formed by combining Re with other gods.
Overall, Re was the foremost deity in the ancient Egyptian religion of many regions. He was the personification of the all-important sun. For the Egyptians, the sun most basically represented light, warmth and therefore growth. This made Re hugely important to Egyptians, and it is probably therefore no coincidence that he is also seen as the supreme ruler of all. Re was the dazzlingly active force of the mid-day sun, which was thought to sail the starry waters of the heavens in two barques to protect its fires from the primordial rivers of the Tuat (or Duat, the underworld), where it passed through during the night. Ra passed over the first half of its course in the morning boat, which was called Matet, ("becoming strong"), and over the second half in the evening boat, which was called Semktet ("becoming weak"). He was accompanied on his journey by a number of gods and goddesses, whose duties consisted in navigating the sunboat, and in helping it to make a successful passage by defending it against monsters in the Tuat. From the 5th dynasty (in the Old Kingdom) onward he was elevated to the status of a national deity. As the cults of various solar deities rose and fell, and as the theologies of various centers predominated, Re's role as the most well-known solar god in the Egyptian pantheon constantly changed. His name is often attached to that of other gods, as we saw with Atum-Re. Lamentably, it is virtually impossible to distinguish exactly when these combinations happened. But these instances illustrate how Re's identity was often commingled with other gods as different regional religions were merged in an attempt to unite the country. For example, as Thebes gained importance, Re acquired an increasing association with that city's patron saint, Amun (a primeval god known as "The Hidden One"; variant spellings include Amon, Amen, Amoun, Aman, Ammon, Amum). So as the cults of Amun (a member of the Ogdoad, his worship originated at the cult center of Hermopolis; his influence waxed an waned throughout many centuries) and Re became increasingly popular in Upper and Lower Egypt respectively, the characteristics of Amun and Re were married to create Amun-Re (or Re-Amun). He became perhaps the most important high god of Thebes (with a cult center at Karnak) and was elevated to a supreme god around the 12th dynasty (in the Middle Kingdom). Ironically, his cult became so powerful that it rivaled the monarchy. According to official state theology during the New Kingdom, Egypt was actually ruled by Amun-Re through the (Theban) pharaohs, with the god revealing his will through oracles.
Because Re was connected at a very early period with Horus, he was also fused with this god to form the synchronistic solar deity Re-Horakhty (literally "Re, who is Horus of the Two Horizons"; variants include Ra-Herakhty, Ra-Harakhty). However, Re-Horakhty was more of a title, or manifestation, than a composite god. And Re and Horus never completely meshed as a single human-bodied/falcon-headed sun-god. As the power of the Theban priesthood of Amun continued to grow towards the end of the 18th dynasty, the pharaohs subtly began to counterbalance it with patronship of Re-Horakhty, who became the principal god of Heliopolis. It should be noted that with all of this mutual assimilation taking place, Re was not absorbed into new deities. Instead, there was a unity of divine power with these other major gods. Despite all of these confusing mergers of identities, it was Amun-Re who remained paramount for centuries, except for when he was briefly superseded during the reign of Akhenaten by the sun disk itself, the Aten.
During the 18th dynasty, the pharaoh Amenhotep IV (reigned 1333-23 B.C.) — he formally declared his new religion in the fifth year of his reign by assuming the name Akhenaten ("One Who is Useful to the Aten" or "Effective Spirit of the Aten") — introduced the monotheistic worship of a new form of sun-god, the Aten (or Aton), an unseeable god whose life-sustaining power was manifested both literally and symbolically in the sun's disc. Egypt had already combined gods, as previously noted. This permitted Egyptians to think of the gods as unified forces, which was a prelude to monotheism. In fact, the cult of Amun-Re was effectively almost as monotheistic as the worship of the Aten, who had been a little-known deity for two generations before Akhenaten (the first important mention of the Aten took place during the reign of Tuthmose IV, grandfather of Akhenaten). Indeed, the name of Akhenaten's "sole god" was actually one of the didactic names/aspects of Re-Horakhty. Within his first few years as pharaoh, he abandoned the Heliopolitan temple of Re-Horakhty and began to build new structures, in places such as Karnak, in which to worship the Aten. According to one source, he even built a temple (Wetjes Aten, "Elevating the Sun-disc") in Heliopolis for the veneration of the deified solar disk. Nevertheless, the Heliopolitan priesthood clearly had less to fear than that of Amun: Akhenaten left the royal city of Thebes and founded a new capital, Akhetaten ("Horizon of the Aten" or "Place of the Aten's Effective Power") at the site of present-day Tell el-Amarna. Taking an oath that he would never go beyond the bounds of that city, he resided there with his wife Nefertiti and their six daughters. In a temple open to the sunlight, they directed their naturalistic worship only to the Aten, which he conceived of as a single controlling intelligence behind and above all beings, including all of Egypt's other deities. Akhenaten then systematically set about to abolish the worship of all the gods but that of the Aten. He defaced the symbols of the old gods/goddesses, removing their names from inscriptions/texts throughout Egypt. Despite the opposition of the priesthood of Thebes, he had the name of Amun, the most popular deity, hacked out from wherever it occurred. The cult of Amun was abandoned altogether, and Aten was be elevated to the point of becoming the only god of Egypt. The king addressed a beautiful hymn (remarkably similar to Psalm 104 of the Bible) to the Aten, expressing gratitude for the bounties of life. However, there is no evidence that the masses of Egypt worshipped the Aten happily. To them, Akhenaten became the same god-king who had always ruled Egypt, and Nefertiti substituted for all the former mother goddesses. The royal couple seems to have accepted this worship as their just due. In time, Akhenaten's loss of Egypt's territorial possessions in Asia as well as his religious reforms alienated most of the people. Upon his death, all of his changes were undone; all of his innovations were nullified, almost as if they had not occurred. Worship of Amun-Re was restored. Eventually, the priests persuaded Tutankhaten (most likely Akhenaten's son-in-law) to adopt an Amen-name upon his succession. As Tutankhamun ("the living image of Amun"), the new underage pharaoh returned to Thebes and permitted the priesthood to obliterate the remnants of Atenism.
Heliopolis was also the name the Greeks gave to Baalbek, in ancient Syria and now in the Bekaa Valley of eastern Lebanon, when they occupied the town in 331 B.C.; thus, along with the rest of this part of the world, Baalbeck was Hellenized after the conquests of Alexander the Great. The history of this town reaches back approximately 5,000 years, but it was the Phoenicians who settled there as early as 2,000 B.C. and chose the site of Baalbek for a shrine to their sun-god Baal-Hadad. The Phoenician/Canaanite term Baal simply means "lord" or "god" and was the title given to the Semitic sky-deity worshipped throughout the archaic Middle East. The word Baalbek may mean "God of the Bekaa Valley" (the Romans called the fertile Beqaa Valley "the Breadbasket of the Empire") or "God of the Town", depending on different interpretations of the word. Ancient legends assert that Baalbek was the birthplace of Baal (the Assyrian Hadad). Even though a sacred city named Heliopolis already existed in Egypt, the Ptolomaic rulers also referred to Baalbek as Heliopolis in order to express the importance this holy site held for the Egyptians. The Ptolemies may have found it provident to link Baal-Hadad with the Egyptian god Re and the Greek god Helios in order to establish closer religious and cultural ties between their newly established dynasty in Egypt and the eastern Mediterranean world. After the Romans conquered the site, the sky/sun god Jupiter became the central deity of Baalbek's temple complex. Whatever the nature of the pre-Roman worship at Baalbek, its veneration of Baal created a hybrid form of the god Jupiter, generally referred to as Jupiter-Baal ("Heliopolitan Jupiter" or "Heliopolitan Zeus"). The greatest of Baalbek's three temples was sacred to Jupiter-Baal (identified here with the sun); it was constructed between the first century B.C. and 62 A.D., making it the largest temple in the empire. The city retained its religious function during Roman times, when the sanctuary of Jupiter-Baal was a pilgrimage site. At the end of the 4th century, Emperor Theodosius destroyed many significant buildings and statues, and constructed a basilica with stones from the enormous Temple of Jupiter. This signaled the end of Greco-Roman Heliopolis. The city of the sun declined and lapsed into relative oblivion.
Apparently, the coastal (Black Sea) town of Obzor, in Bulgaria, was also known by the Greeks as Heliopolis. It was founded in the 4th century B.C., and a Roman temple to Jupiter once graced the spot as well.
Fortunately, the mystical allure of Heliopolis still appeals to many people. The Heliopolitan coinage has been favorably received and warmly embraced by collectors worldwide (Andorra, Australia, Austria, Brazil, Canada, Czech Republic, England, France, Germany, Israel, Italy, Netherlands, New Zealand, Russia, Saudi Arabia, Spain, United Arab Emirates).
So if your sunny disposition finds Héliopolis appealing, perhaps you will reserve a spot in your collection for one of its handsome coins; right next to your Adelas, Decas, Ducals, Cali, Skaloj, Steloj, and all the other uncommon, privately-made coins of the unofficial "world".
Additionally, I am always eager to learn of newfound numismatic objects that fall into this fascinating category, so if you know of any ou-topoi (Greek for "non-lands", "non-places", "non-loci") or other peculiar localities (countercountries, microstates, "new country" projects, online/cyber-nations, virtual republics, quasi-states, phantom/imaginary/ephemeral/unrecognized governments, ego/hobby nations, or model countries) which distribute their own coins, please let me know. Also, feel free to contact me if you just want to chat with another aficionado about these types of coins. Three cheers for coins from the "Lands-of-almost-but-not-quite"! Viva numismatic unusualness, even if from the most seldom-seen or unheard-of locales, however unreal!
Merci mille fois!!



Erik Victor McCrea
Le Premier Ministre



E-mail: evm111@hotmail.com